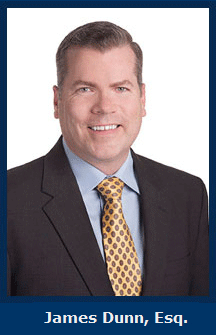 Chief associate James Dunn graduated with honors from Suffolk University Law School, including Dean's list and the distinguished oral advocate award.
He has practiced criminal defense since 2009 in over seventy courts and administrative agencies. He has handled approximately 500 cases including successfully defending clients against charges of first degree murder.
James now focuses entirely on OUI defense, RMV and Board of Appeals hearings and is an active member of The National College for DUI Defense. He assisted in research during the state-wide challenge to the use of the Drager Alcotest 9510 breathalyzer ultimately revealing that machines certified during a certain time period were scientifically unreliable. He completed the two-week 2019 National Criminal Defense College for post-graduate training.
Our clients have said:
James was absolutely amazing. He literally had the court stunned. I can tell you he truly cares. I can't believe I'm getting a second chance opportunity.
He takes the time to explain everything step by step, detail by detail.
Very professional and kind. A big help.
Mr. Dunn did a great job and made things a lot easier for us.
The kindnesses he extends makes a frightening event much less devastating.
He would have made a good doctor as well.
Mr. Dunn was a huge asset and did a great job with my 1st offense OUI. He is very friendly and very sincere. He went above and beyond getting my license back and spent over half a day with me at the RMV until they gave it back to me. He was very organized and knew just what to say to the hearings officer and court personnel. He is a hardworking, honest personable lawyer.
I so appreciate all that you did on my behalf. Most importantly, I appreciate your kind and compassionate ways. Combined with your highly skilled and professional manner, I believe all were a reason for our great success.
---
Continuing Legal Education
| | | |
| --- | --- | --- |
| 12/7/2019 | Trial Skills Workshop | DUIDLA – DUI Defense Lawyers Association; Indianapolis, IN |
| 12/4 - 12/5/2019 | Dodd & Dodd Trial Skill Clinic | Indianapolis, IN |
| 10/28/2019 | Handling OUI Cases in Massachusetts | MCLE – Massachusetts Continuing Legal Education; Boston, MA |
| 6/16 - 6/29/2019 | Trial Practice Institute | NCDC – National Criminal Defense College; Bristol, RI |
| 3/10/2018 | Trial Skills Workshop | DUIDLA – DUI Defense Lawyers Association; Columbus, OH |
| 6/31 - 7/2/2017 | Trial Skills | NCDD – National College of DUI Defense; Jackson, MS |
| 5/18/2017 | Breath Testing Consolidated Litigation | Social Law Library; Boston, MA |
| 7/21 - 7/23/2016 | DUI Defense | NCDD – National College of DUI Defense; Cambridge, MA |
| 7/11 - 7/15/2016 | Trial Advocacy Workshop | MCLE – Massachusetts Continuing Legal Education; Boston, MA |
| 7/8/2016 | Dodd Cross Examination | MCLE – Massachusetts Continuing Legal Education; Boston, MA |
| 10/6/2015 | Show Cause Hearings | MCLE – Massachusetts Continuing Legal Education; Boston, MA |
| 3/18/2014 | OUI Seminar | Essex County Bar Association; Middleton, MA |
| 5/1/2013 | OUI Seminar | Social Law Library; Boston, MA |
| 3/1/2013 | Handling OUI Cases in Massachusetts | MCLE – Massachusetts Continuing Legal Education; Boston, MA |