Cell: 978 921 4100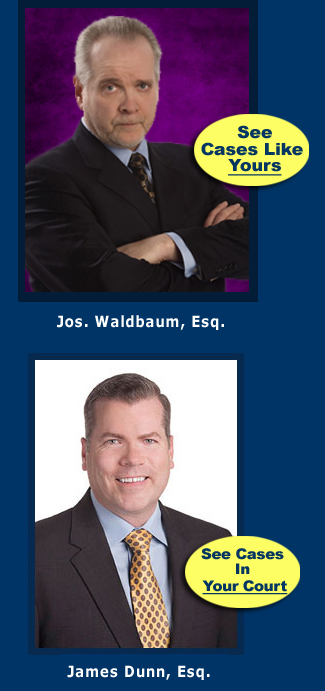 Jos. Waldbaum, Esq.
WOBURN CASES
WOBURN
"HE'S PREPARED, LIKABLE, AND CHARISMATIC"
SPEEDING; FAILED FIELD SOBRIETY TESTS;
NOT GUILTY 2ND OFFENSE

I googled MA OUI lawyers and saw Joe had won 75% of his trials. The officer testified he saw me swerve from lane to lane without signaling and measured me speeding 35 mph over the limit. He also said I failed all the sobriety tests: the ABCs, one leg stand and 9 step walk and turn test. Joe argued to the jury that he hadn't bothered to make a note that I was nervous (due to the presence of three cops and three cruisers) that it was 27 degrees out and that I was wearing high heels.

See judge's order restoring license.

I CRIED WHEN I HEARD 'NOT GUILTY'

SEE JUDGE'S ORDER RESTORING LICENSE ​

---
WOBURN
3RD OFFENSE - 5 YR REFUSAL SUSPENSION REVERSED
NOT GUILTY DESPITE FAILED FIELD TESTS

I was suspended for five years as a third offender for refusing the breath test. After an RMV Hearing [which must occur within 15 calendar days of the arrest, we appealed their denial to a judge. The judge ordered the RMV to restore my license and I was able to drive legally for a year while the case worked its way towards trial.

Cop stopped me because I went over the line twice. He said I had glassy, bloodshot eyes, a strong odor of alcohol, was unsteady on my feet and failed both field tests. Joe stressed they were done at 3:15 am in 27 degree weather and the cop never wrote in his report that my speech was slurred. Joe was thorough, professional, and hit every point.

See judge's order restoring license.

HE'S HIGHLY EXPERIENCED AND EVERYBODY KNEW IT

SEE ORDER RESTORING LICENSE

---
WOBURN
OUI-DRUGS - 3RD OFFENSE
BAD ACCIDENT- CHARGES DROPPED

I told cops I'd taken 3 drugs. They videoed a drug expert testing me for 45 minutes. I looked totally out of it! My urine sample showed 7 metabolites of those same 3 drugs. Joe made no promises and didn't sugar coat anything. But be careful, this man will save your life! He did mine. I looked at his track record, client testimonials and checked with other lawyers and detective friends. I found he is highly respected by his peers. When in court, he worked it like an artist, First he noticed my Miranda form had not been done correctly and got all my statements thrown out. Then he wrote a Memorandum argung the urine test should be suppressed too. Incredibly, the judge agreed. The DA had so little evidence left he dropped all charges on the trial date.

'IT WAS UNBELIEVABLE WHAT HE DID FOR ME IN THAT COURTROOM'

---
6.28.17; WOBURN
3RD OFFENSE
FAILED BREATH TEST THROWN OUT

"When I found Joe's website, I couldn't believe I could call so many of his former clients -- so I did! Even ones in my court. Hilary [acquitted of a second offense in Woburn] said she couldn't believe how well he handled her case. She was absolutely right. It was really something watching him get my breath test thrown out of court. I can't thank him enough for the results he achieved."

'BEST DECISION I EVER MADE WAS HIRING HIM'

---
WOBURN
NOT GUILTY DESPITE SPEEDING 90 MPH

Client was measured by radar at 90 mph, had strong odor of alcohol, bloodshot, glassy eyes, admitted drinking from 2 pm to 830 pm and could not recite alphabet correctly. On cross exam, trooper admitted speeding is not a recognized indicator of OUI, he committed no other moving violations in a 2.5 mile stretch and though he said client put his foot down "several times" during the one leg stand and walked "off the line" during the walk and turn test, neither of those observations had been recorded in his report.

---
WOBURN
FAILED BREATH TEST - SPEEDING 83 IN 50 MPH ZONE
NOT GUILTY - 2ND OFFENSE

Client smelled of alcohol, admitted drinking and had red, glassy and bloodshot eyes. He failed 2 field sobriety tests and 2 empty beer bottles were found within reach in the truck. At the barracks, the breathalyzer registered over the legal limit at 0.10. At trial I argued cop followed him for one mile and he committed no lanes violations, had no trouble producing his license and registration, getting out of the car and walking normally. Plus the breath test was done one hour after driving and they couldn't prove what his blood alcohol was at the time of driving --- as required by law.

---
WOBURN
2nd OFFENSE: 3 YEAR REFUSAL SUSPENSION REVERSED
NOT GUILTY ALL 3 CHARGES DESPITE ACCIDENT

Charles' license was suspended 3 years for the refusal. I advised him how to fight this at the RMV in the required 15 day period and then appealed to a judge in court. The judge ordered the 3 year suspension lifted so he was able to drive while we proceeded to trial. There, I showed the jury medical records indicating he suffered a concussion in the crash and argued that even though it was his fault, the balancing tests were done at 11 PM after a workday on a ramp leading up to the highway.


CHARLES' TESTIMONIAL:

"From the second Joe took my 5 AM call to my acquittal at trial, he was on top of every detail. What could easily have been a 5 year license loss became a NOT GUILTY verdict. He was articulate and organized in court, systematically shredding the DA's claims one by one. He convinced the jury there was insufficient evidence despite the testimony of 2 state troopers, 2 failed sobriety tests and an accident. "

See judge's order restoring license.

'DO YOURSELF A FAVOR: HIRE HIM!'

   SEE JUDGE'S ORDER RESTORING LICENSE   

---
WOBURN
BEATS ALL 3 CHARGES:
OUI 2ND OFFENSE, SPEEDING, LANES VIOLATION
THEN GETS MY LICENSE BACK

'It was really something to watch Joe argue his pretrial motions. He was very clever and kept out lots of bad facts. During a 2-day trial, when everybody went to lunch, he stayed at the defense table preparing his cross exam of the cop who said I almost hit a guardrail, had slurred speech and admitted drinking. But when he said I fell "face first" during the walk the line test, Joe showed the jury he never wrote that in his report. After the not guilty, he brought a motion to restore my license and convinced the judge to do so as well"

See judge's order restoring license.

'YOU COULD DO NO BETTER.
BEST INVESTMENT I EVER MADE!''

   SEE ORDER RESTORING LICENSE   

---
WOBURN
NOT GUILTY; OUI-DRUGS 2ND OFFENSE

Client was seen by off duty cop to cross center line 6-7 times and once go entirely into opposite lane then run through a 4 way stop sign. He admitted to taking Vicodin and according to the arresting officer failed the one leg stand and the nine step walk and turn field tests. Despite the testimony of three officers at trial, he was found not guilty.

---
WOBURN
CONSUMMATE PROFESSIONAL.
LIKE A HUNTER SEEKING PREY.

"I watched you operate in Court today: you observed, picked your times and targeted specific people you needed to connect with. Then you swooped in, handed off paperwork, said what needed to be said at the appropriate time and returned to your seat. It was impressive to see-- like a hunter seeking prey. The DA's arguments paled in comparison to your eloquence in summation while making your points to the Court.

You are a consummate professional and there is no questioning your expertise. Thank you for your help. You saved my license and one man business and I would be glad to talk to prospective clients."

---
WOBURN
UNDER 21 OUI-DRUGS
CHARGES THROWN OUT OF COURT

Cop saw me throw a Hawaiian Punch bottle out the window and stopped me for littering. He then smelled marijuana and I admitted I had been smoking and gave him the blunt. He had me get out of the car and do 3 field tests and then arrested me for OUI Drugs. Joe brought the case along carefully with pretrial motions and Hearings (and must have done it all right) because on the day of trial the DA dropped all charges.

JOE DID ONE HELL OF A JOB!

---
5.28.15; WOBURN
RMV REFUSAL SUSPENSION REVERSED
My client suffered a 180 day license suspension for the breathalyzer refusal. She needed to be able to drive to continue her job as an EMT. We instructed her exactly how to challenge this suspension at the Boston RMV within 15 days of her arrest. We then appealed the RMV denial to a judge in Court who lifted the refusal suspension.
See order reversing registry.
---
WOBURN
OUI-DRUGS: ILLEGAL SEARCH
INCRIMINATING PILL BOTTLE SUPPRESSED
Client was stopped for erratic driving and admitted taking Vicodin. He told the officers he had a prescription bottle in his coat pocket beside him. The officer reached in the open window, extracted the coat, searched the pockets and found the incriminating pill bottle. At my Motion to Suppress, I argued that he had not given legally sufficient permission to the officer to reach into the car, seize his coat and/or search the pockets. The judge agreed.
---
WOBURN
2ND OFFENSE REDUCED TO 1ST
$2200 SAVED AND NO IGNITION INTERLOCK REQUIRED
My client had been assigned to a DWI program out of state for Reckless Driving [which can count as a prior OUI in Mass] so the DA charged 2nd offense. I reviewed the statutes and produced a Memorandum showing that the DWI program had to be done as a result of a "like violation." I convinced the DA Reckless Driving didn't contain a per se or impairment element and thus didn't suffice. She agreed and reduced the charge.
Client saved $2200 plus the embarrassment of an ignition interlock in his car
---
WOBURN
2nd OFFENDER TREATED AS FIRST - DESPITE .24 BREATHALYZER
My client's Breathalyzer was three times the legal limit. Although his prior offense was just over the ten year "look back" period, I convinced the Judge to give him a chance to be treated as a first offender. Result: rather than a full 2 year license loss, he got a work license and kept his job
---
JOE KNEW MORE ABOUT MELANIE'S LAW THAN THE JUDGE
"The Judge told Joe under Melanie's Law we couldn't tender a Plea at Arraignment. When Joe told her there was no such provision and asked her to cite it, she told him to look at the statute himself. After reviewing 23 pages and again telling her it's not in there, she angrily said she'd find it herself. Red-faced, she returned to the bench 20 minutes later saying 'You're right, Counselor, let's proceed as you requested.' "
Moral:
Just because a Judge tells you something doesn't mean you have to agree with it!
---
"JUST LET HIM DO THE TALKING"
Labeled as an "immediate threat," I faced a life-long loss of my Massachusetts driving privileges for driving under the influence of prescription narcotics. Joe successfully guided me through the overwhelmingly complex process both at the Registry and in Court, All I had to do was sit back and let him talk.
Result: right to drive re-instated with just a slap on the wrist
---
WOBURN
'I WATCHED JOE DO MY SON'S 2-DAY JURY TRIAL'
I spent 2 days watching Joe defend my son on trial for his 2nd OUI. A conviction would have disastrous consequences for his career and his young family. However, it was our very good fortune to have been represented by Attorney Waldbaum who is, without much doubt, the best OUI defense attorney in the state. His skill, professionalism, and extensive knowledge of the fine points of the law were all on display during these 2 days. He effectively countered all the DA's arguments, cast doubt on the testimony of 2 state troopers through cross examination, and clearly stressed the concept of reasonable doubt to the jury. It was a masterful performance. My son was cleared of all 3 charges. He is now free to get on with his life. We owe a very great debt of gratitude to Joe and I recommend him without hesitation to anyone who finds himself charged with OUI.
---
WOBURN-
3RD OFFENSE
GOT SON'S LICENSE BACK AND THEN WON CASE
Joseph Waldbaum provided excellent representation for our son. His professional expertise in presentation of the facts and proving the charges untrue resulted in a victorious outcome for our son, who was found not guilty. Joseph also challenged the automatic 5 year suspension of our son's license by the registry because he refused to take a breathalyzer test and won that too, allowing our son to regain his license so he could drive to work and not jeopardize his job. My husband and I recommend the high quality of his services to others and give our full endorsement of his qualifications.
---
A PARENT'S TESTIMONIAL- WOBURN
My introduction to Attorney Waldbaum was on a Saturday afternoon in February 2010, when my son, an 18 yr old college student, informed my wife and me that he had been stopped for OUI-Drugs (marijuana) the night before. He was due in court at 9am Monday morning and Joe spent a great deal of time talking us through what to expect and gathering the necessary information to represent my son.
While this was difficult in itself, the situation turned worse when my son was stopped a second time less than six weeks later for the same offense – this time on a Sunday evening. Joe again spent the time to inform us of what we would likely face in court on Monday morning and the news was not good.
Due to the first charge being unresolved and now a second arrest, it was likely that the prosecutor would seek jail time for my son because of his bail violation. Joe was able to strike a deal on Monday that kept my son out of jail in exchange for my son agreeing not to drive and being subject to random drug testing until the two cases were resolved. From this point on Joe developed a strategy to seek the best possible outcome for my son. He identified the risks/rewards of multiple strategies and engaged each of us along the way to gain our acceptance and/or objections.
Ultimately, based upon Joe's recommendation, my son decided (with our support) to accept a CWOF on his first arrest. Joe believed that he had a strong defense for the second case and proceeded to work on a winning strategy. Through multiple court appearances, legal arguments and motions that lasted for over a year, finally in April 2011, my son's case was going to be heard before a trial by Judge. Joe was confident that he had a strong case, and that it was going to be heard by a reasonable judge, and as my son was being called into the courtroom, the prosecutor asked to speak with Joe.
The nightmare was finally over as Joe came back with the news that the case was being dismissed. I believe that Joe's frankness and straightforward approach in explaining the possible outcomes to my son, made a tremendous impact on him and has helped him to make the necessary changes in his life that he needed to make. Thanks to Attorney Waldbaum, he will be able to move forward without the added burden of an OUI conviction on his record.
I would recommend Joe to anyone in need of strong representation as it was clear to me that he was knowledgeable of both the complex laws regarding OUI and the process to follow to gain a favorable result.
Signed, an extremely grateful parent, and if needed you can reach me at Dalynews1@gmail.com should you have any questions or doubt about choosing Attorney Waldbaum.
---