Cell: 978 921 4100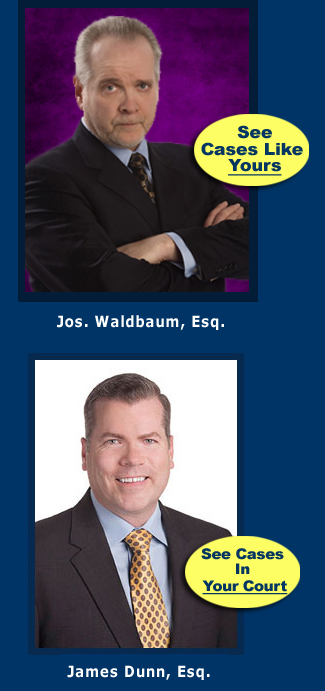 Waldbaum & Dunn OUI Defense
UNSTEADY ON FEET WINS:
1.25.18; QUINCY
NOT GULTY
LICENSE RESTORED SAME DAY

Client drove over a 12 inch curb and did not stop when police flashed their lights at him. He acclerated to 50 mph with a flat tire. Cop testifed he was unsteady on his feet, had an odor of alcohol and his speech was thick and slurred. We immediately filed a motion to preserve the booking video. At trial, the video showed him standing normally and speaking normally. The judge found a disconnect between the police report and the video, acquitted him and restored his license immediately.

'I'M THRILLED! THEY WORKED HARD FOR ME.
THEY'RE A GREAT TEAM' ORDER RESTORING LICENSE

---
6-20-17; LOWELL
NOT GUILTY 2ND OFFENSE

Client was seen swerving in his lane for two miles, had slurred speech and bloodshot, glassy eyes. He admitted to drinking and had an open container of beer in the console clearly visible to the officer. He was unsteady on his feet getting out of the car and had to place his hand on the car to keep his balance. Plus, there was a strong odor of alcohol about hs person. The booking video showed him swaying at points and with slurred speech as well. Not guilty at bench trial.

'HE'S THE BEST OUT THERE.
AND HE MAKES IT RELAXING AND NOT STRESSFUL.'

---
10.19.16; UXBRIDGE-WORCESTER
NOT GUILTY 2ND OFFENSE;
NOT GUILTY RECKLESS DRIVING

Civlian called police to report that client backed out of driveway swerving and appeared to be drunk. At trial, cop testified Scott had a strong odor of alcohol, bloodshot and glassy eyes and was unsteady on his feet. I stressed that he pulled over promptly and safely, was able to produce both his license and registration quickly and without difficulty, and that any unsteadiness getting out of the car was due to being asked to walk towards the cruiser's headlights and flashing "takedown" lights which -- as I got the cop to admit on the stand during trial -- were still on !! Judge found reasonable doubt and immeidately restored his licnse.

See judge's order restoring license.

'FANTASTIC IN COURTROOM.
FAR MORE EXPERIENCED THAN THE DA'

   SEE ORDER RESTORING LICENSE   

---
DUDLEY - E.BROOKFIELD
NOT GUILTY 2ND OUI
AFTER ADMITTED DRINKING:
"PROBABLY MORE THAN I SHOULD HAVE"

I also admitted to one drink per hour for several hours but Joe got that statement thrown out at his pretrial motion to suppress evidence. There were 3 cops and 3 cruisers. They smelled alcohol, said I couldn't walk the line and was unsteady on my feet. At trial, Joe pointed out the inconsistencies in 2 of the officer's stories and showed the cruiser and booking videos to the jury to contradict their testimony. After deliberating over 2 days, they found me not guilty and the judge then immediately restored my license saving me the rest of the three year refusal suspension.

"JOE IS BRUTALLY HONEST, RIDICULOUSLY PROFESSIONAL
AND INSANELY GOOD."

SEE CLIENT'S LETTER / SEE CASE DISMISSED

---
WOBURN
3RD OFFENSE - 5 YR REFUSAL SUSPENSION REVERSED
NOT GUILTY DESPITE FAILED FIELD TESTS

I was suspended for five years as a third offender for refusing the breath test. After an RMV Hearing [which must occur within 15 calendar days of the arrest, we appealed their denial to a judge. The judge ordered the RMV to restore my license and I was able to drive legally for a year while the case worked its way towards trial.

Cop stopped me because I went over the line twice. He said I had glassy, bloodshot eyes, a strong odor of alcohol, was unsteady on my feet and failed both field tests. Joe stressed they were done at 3:15 am in 27 degree weather and the cop never wrote in his report that my speech was slurred. Joe was thorough, professional, and hit every point.

See judge's order restoring license.

HE'S HIGHLY EXPERIENCED AND EVERYBODY KNEW IT

SEE ORDER RESTORING LICENSE

---
LYNN
NOT GUILTY DESPITE ACCIDENT

It was in the middle of the night when I filled out the "Free Consultation" form on this website and within minutes I got a call from Joe himself, polite and re-assuring. Even with minimum time to prepare for the case next morning he was there in court ready to go. He explained my options clearly, did not give me false promises or hopes and did not make decisions for me. He is well respected in court and knows everyone there. During the entire process he never made me feel like I had to do it alone.

I was in a crash and rode for a while on a flat tire. After witnesses told the cop where I was, the cop first found the tire then found me stopped in the middle of the road. I was unsteady on my feet, smelled of alcohol, failed all the field tests and then fell over to the ground when I bent to tie my shoe lace.

Result: Not Guilty- Judge ordered my license immediately restored.

"JOE WAS ALWAYS THERE FOR ME, MADE ALL THE RIGHT CHOICES
AND GOT ME A NOT GUILTY"

---
LEOMINSTER
FAILED BREATH TEST
NOT GUILTY AT TRIAL

The troopers said I had bloodshot, glassy eyes, was unsteady on my feet and failed the field sobriety tests. I took the breath test, failed it and immediately lost my license. Joe advised me how to proceed every step of the way. After writing 3 detailed reports, he advised me to fight the case and he was absolutely right. I can't recommend him more highly as a lawyer -- and a friend.

"WORKED RELENTLESSLY ON MY BEHALF 24-7 "

---
PEABODY
TWICE ARRESTED FOR 2ND OFFENSE
TWICE NOT GUILTY !

Joe got me a not guilty in 2011 but then in 2013 I caused an accident and got arrested again. The cops testified I would not roll my window down all the way or look at them, was unsteady on my feet, my eyes were extremely bloodshot and glassy and my speech was thick tongued. I admitted to drinking 3 beers, the most recent 1 hour previously. Joe pointed out the conflicts in their testimony and showed a photo that I was wearing 2 lip studs [which could account for the speech issue]. He argued my excellent performance on the alphabet test created the necessary reasonable doubt. The judge agreed. Then he had a Motion ready to restore my license [another battle due to my poor driving record] but Joe convinced him to do that as well.

See docket showing license restored.

'3 COPS TESTIFIED I WAS OUI BUT LICENSE RESTORED'

   SEE DOCKET SHOWING LICENSE RESTORED   

---
FITCHBURG
NOT GUILTY OUI-DRUGS; "NEVER HAD ANY DOUBT"

I was stopped for multiple lane violations. I told the Trooper I had smoked a joint and had 2 beers 20 minutes ago. He noted a "blank stare" on my face and that I was unsteady on my feet. He said I failed the 3 field sobriety tests and arrested me. I never had any doubts in Attorney Waldbaum's abilities. He was always on time and prepared for every Court date for the year it took to go to trial. He wrote full reports every step of the way to help me make all the right decisions. (Obviously.) Call me. I'll gladly tell you.

---
NATICK-FRAMINGHAM
FAILED BREATH TEST; 2ND OFFENSE
NOT GUILTY AT TRIAL

I was arrested for my 2nd offense. The arresting detective said I had very thick and slurred speech and was unsteady on my feet. Plus, I admitted drinking two gin and tonics and one 16 oz. beer shortly before driving. The booking sergeant testified I had red, glassy and bloodshot eyes and in his opinion I was under the influence of alcohol. I even admitted I felt the effects of the alcohol! I took the breath test at the station and failed it over limit. Joe won the case and avoided a two year loss of license and thousands of dollars in fines and fees.

'JOE WAS RESPONSIVE TO ALL MY QUESTIONS AND HAD A GREAT COURT ROOM PRESENCE.'

---
WALTHAM
FAILED ALL 3 FIELD SOBRIETY TESTS:
NOT GUILTY, 2ND OFFENSE
'JOE SAVED MY LIFE.'

I've dealt with a lot of lawyers but Joe is definitely the best. He kept me informed through the entire case with emails and copies of documents. At Trial, the cop testified I committed 4 traffic infractions, had slurred speech, was unsteady when I got out of my car and failed the one leg stand, walk and turn and alphabet tests. Plus, the booking sergeant testified I had a strong odor of alcohol and saw me sway during booking. Joe was unbelievable at Trial and turned the tables on them both. The jury was out only 40 minutes. Not Guilty 2nd offense OUI.

HE'S THE OUI LAWYER YOU WANT. CALL ME, I'LL TELL YOU WHY.

---
E. HAMPSHIRE - BELCHERTOWN
A GRAND SLAM! JOE BEATS ALL FOUR CHARGES

I was charged with DUI 2nd offense. I was speeding 20 mph over the speed limit and committed lanes violations. The cop testified I had slurred speech, smelled of alcohol, glassy eyes, was unsteady on my feet, could not stand without swaying and failed the field sobriety tests. First, Joe reduced the 3 year refusal suspension to just 180 days so I got my license back while the case was going on and then he beat all four charges at Trial:

OUI 2nd Offense: Not Guilty
Negligent Operation: Dismissed
Speeding: Not Responsible
Lanes Violation: Not Responsible
No convictions, no fines, no probation, no license loss,
no breathalyzer in my car.

---
ROAD BLOCK
FAILED BREATH TESTS AND FIELD SOBRIETY TESTS:
NOT GUILTY

I was stopped at a road block and admitted to the Trooper I had been drinking 45 minutes ago. He took me out of the car and I foolishly agreed to do the field sobriety tests. I failed them all and was arrested. Then I –also foolishly—agreed to take the breathalyzer in the trailer nearby. I registered over limit on both of them too. Plus, at Trial, the Trooper testified my eyes couldn't focus on him and I was unsteady on my feet. No matter. Joe's obvious skills as a Mass. DUI Lawyer during cross-examination won the day.

'PUT YOURSELF IN HIS HANDS-- HE'S A GOD'

---
QUINCY
NOT GUILTY: 3RD OFFENSE
"JOE IS UNBELIEVABLE IN FRONT OF A JURY:
PRECISE AND TO THE POINT"

During my 3 day Trial, a constable testified he followed me for 10 minutes, saw me cross the center line and drive all over the road and completely in the opposite lane for 20 seconds. 2 cops testified I failed 3 of 4 field tests, was unsteady on my feet and had a "1000 yard stare." Joe stressed that I stopped at every red light, proceeded when they turned green, was wearing heavy work boots and the cops' flashing lights interfered with the testing. The jury agreed. Not Guilty. No jail. No 8 year license loss.

"EVERY CHANCE JOE HAD TO REACT TO SOMETHING, HE POUNCED"

---
HAVERHILL
"THE DA JUMPED UP AND DOWN TRYING TO CONVICT ME
BUT JOE WON."

First I admitted to the Trooper I had 2 beers; then I told him 4. The Police Report said I had slurred speech, glassy eyes, was unsteady, failed to touch my finger at the spot he told me to, couldn't keep my foot up for 30 seconds, didn't walk heel to toe like he showed me, and couldn't say the alphabet. In other words, I failed all the field tests. As an experienced Mass DUI Lawyer, Joe told me I could win anyway and advised we go to Trial. He did a fantastic job.

He also beat the Brake Lights Violation so nothing went on my driving record at all.

---
QUINCY
ADMITTED TO TEN BEERS, DROVE INTO TREE
NOT GUILTY AT JURY TRIAL

Facing his a second offense, My client was found a half mile from his truck which had crashed head on into a tree. He had left his driver's license in the truck, could not hold his head up, was unsteady, and had a 'stupefied' expression on his face and a strong odor of alcohol. Plus, he admitted to drinking ten beers "all over Southie." At jury trial, I convinced them that the DA hadn't proven he was actually driving the truck beyond all reasonable doubt.

---
WESTBORO
NOT GUILTY!
"JOE IS EXTREMELY IMPRESSIVE IN COURT"

Cop testified he saw me drive up onto a curb and cross marked lanes, was unsteady on my feet, swayed while walking, had a strong odor of alcohol, slurred speech and failed the one leg stand field sobriety test. At my Arraignment, Joe had a Motion allowed to preserve the videos of me at roadside and at booking which ended up refuting what the cop said. Then after getting a Not Guilty, he went the extra mile and interceded on my behalf with the RMV when they refused to reinstate my license despite the Court Order he had obtained immediately after Trial to force them to do so.

I strongly recommend him to anybody. Call me!

---
SOMERVILLE
"MY WIFE SAID JOE COULDN'T WIN IT.
BOY, WAS SHE WRONG!"

Trooper saw me commit multiple lanes violations and blow through a Yield sign without slowing down. Then he testified I had slurred speech and had difficulty getting my registration out of the glove box, was unsteady on my feet exiting the car and had an 'overwhelming odor of alcohol' on my breath. After seeing the Police Report, my wife didn't think he could win it but Joe told me to try the case anyway. He was reassuring at all times and both amazing and incredible at Trial.

I got my license ordered restored the same day the Judge found me Not Guilty

---
9.25.15; DEDHAM
NOT GUILTY;
LICENSE RESTORED SAME DAY
Client found sleeping in running car. Strong odor of alcohol; repeated cop's questions back to him. Unsteady on feet. Once retained, I immediately submitted a motion to preserve the booking video [frequently deleted after 30 days]. It showed him walking normally cuffed behind his back and speaking completely normally. After playing it for the judge, we got a not guilty and the judge restored his license the same day.
See judge's order restoring license.
---
LAWRENCE
RUNS RED LIGHT, DRIVES OVER LAWN, HITS GUARDRAIL: NOT GUILTY OUI
Before the accident, client was seen speeding 20 mph over the limit and weaving in and out of traffic. Cop followed him and saw him run a red light and shut off his headlights as he entered a residential section. The cop then found him after he had driven over a lawn and hit a guardrail. He testified he was unsteady on his feet, smelled of alcohol, had bloodshot and glassy eyes, slurred speech and many open containers of alcohol in the vehicle. Verdict: Not Guilty of OUI
---
CAMBRIDGE
CASE DISMISSED
My client was found passed out in her car by the side of the road. She was covered in vomit and reeked of alcohol. She was unsteady on her feet and argumentative with the police. I analyzed her case and wrote her several reports. Because she passed the ABCs and reached 30 on the one leg stand test, I recommended she try the case. On the day of trial, we were fully prepared to fight to the finish when the Judge dismissed the case.
NO FINES, NO ADDITIONAL LICENSE LOSS, NO PROBATION, NO CONVICTION
---
BOSTON-BROOKLINE
FIRST I OVERTURN HER 3 YEAR REFUSAL SUSPENSION
THEN GET HER A NOT GUILTY ON HER 2ND OFFENSE
Client was found by 3 cops fast asleep in her car with the music blaring. She was unsteady when she got out, admitted to drinking, had glassy, bloodshot eyes, and slurred speech. I accompanied her to the Boston RMV to fight the 3 year suspension fro not taking the breath test, then appealed it to a judge in Court and had her license restored just weeks after her arrest so she could drive while the case went to trial. At trial, the police testified that she had parked "askew" to the lines in the lot. However, I had gone out to the scene of the arrest and taken photos. I presented them to the judge proving the lines were barely visible in daylight, much less at two am. At trial, she was acquitted of ALL the charges against her.
See judge's order restoring license.
---
WAREHAM
NOT GUILTY 2ND OFFENSE
Cop followed my client as he was trying to get on Route 195 back to Boston. He missed the turnoff and had make a U-turn and come back. When the cop approached, he reported a strong odor of alcohol and that the client was unsteady on his feet as he exited and walked around the car. I took photos of the signage as well as the highway entrance. When I showed them to the cop, I got the him to admit on the stand that "a lot of people get confused" by the signage in that area. The judge found him not guilty, stating his driving behavior was more consistent with "confusion" than with impairment by alcohol.
---
DUDLEY - E. BROOKFIELD
3RD OFFENDER NOT GUILTY
DESPITE .27 PBT
A career Air Force Officer crossed marked lanes 3 times, stumbled upon exiting his truck and could only recite the first few letters of the alphabet. He faced his third offense and mandatory jail. The video showed him unsteady on his feet, slurring his words and unable to spell his mother's maiden name. I argued the events occurred at 2:30 AM in a steady rain, he had been up for 36 hours straight and his behavior was just as consistent with someone who was sleep deprived as someone under the influence. The jury agreed.
The forewoman actually threw us a thumbs up as they left the jury box!
---
SOMERVILLE
NOT GUILTY!
"AND HE DIDN'T CHARGE ME AN ARM AND A LEG UP FRONT!"
It was a bad accident. I hit a parked car, drove it onto the sidewalk into a set of stairs and structurally damaged them. Then I admitted to the cop I had "a few." He testified I smelled of alcohol, was unsteady, had bloodshot, glassy eyes and failed the field tests. They even video recorded me doing them [and not very well!] back at the station house. No matter. Joe told me he could win the case at Trial and that's exactly what he did. No fines, no Probation, no alcohol programs, nothing.
Plus, he went to Court many, many times and charged me no extra money.
---
WORCESTER
UNDER 21, OVER 100 MPH:
NOT GUILTY
Trooper saw client speeding over 100 mph and stopped him. Underage driver admitted to coming from a bar and consuming three drinks in the past hour. Plus, he was unsteady exiting the car, performing the field tests and was surly and uncooperative with officer. I convinced the Judge the late hour [2 AM] and other conditions explained his behavior and created reasonable doubt. The Judge agreed.
---