Cell: 978 921 4100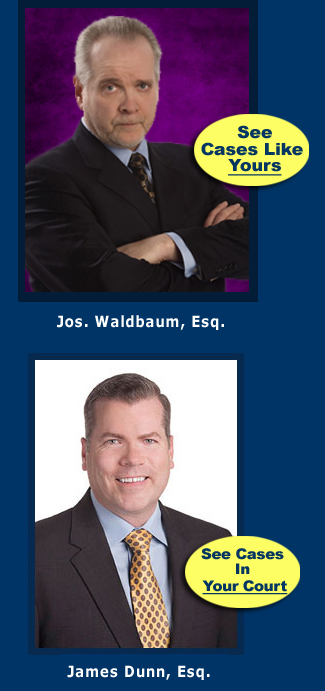 11.3.17; WOBURN
FAILED BREATH TEST; SPEEDING 20 MPH OVER LIMIT:
NOT GUILTY AT TRIAL

'James Dunn is a great lawyer. He was diligent and communicative throughout the whole process. He always advised me to take my time and think through all the options and outcomes. He worked hard to win my case and made me feel like I was his only client. I wholeheartedly endorse him. A great and patient lawyer will work hard to get you the outcome you hope for.'

'MADE ME FEEL LIKE I WAS HIS ONLY CLIENT'

---
9.7.17; FRAMINGHAM-NATICK
NOT GUILTY 3RD OFFENSE
DESPITE FAILED BREATH TEST (.11)


Client was seen by cop speeding 26 mph over limit and crossing centerline. Officer testififed he had bloodshot and glassy eyes, slurred speech and failed all three field sobriety tests. Once retained, I Iimmediately filed a motion to preserve the booking video which proved crucial at trial. I also successfully got the breath test thrown out of court.

CLIENT'S COMMENTS:

They are absolutely awesome, gave me good guidance all the way through the representation, performed professionally at every bend in the road and at trial brought up all the right points. I love them both!

'A THOROUGHLY PROFESSIONAL TRIAL PERFORMANCE'

---
LOWELL
FAILED BREATH TEST AT ROAD BLOCK
CASE DISMISSED

Client smelled of alcohol, had glassy bloodshot eyes and admitted drinking 4 beers an hour ago. He was shaking badly during the sobriety tests and as a result was arrested. He failed both breath tests over limit at .09 and .10 but could not accept a CWOF due to his job so we fought. On the Motions date, the cops were not summonsed so I asked the Judge to mark the Docket "No further continuances." On the 2nd Motions date, the breathalyzer operator could not attend and the DA asked for yet a third date. I argued vigorously against giving the Commonwealth 3 bites at the apple and the second judge agreed. Case dismissed.

---
PEABODY
NOT GUILTY
FAILED BREATH TEST BUT
DONE ALMOST 1 HOUR AFTER DRIVING

Client was seen drifting into next lane and straddling line for ten full seconds. She had a strong odor of alcohol on her breath and admitted drinking. She stumbled turning on the 9 step test and swayed and hopped on the one leg stand. She then blew an over limit breathalyzer at the barracks after her arrest. I argued the field tests were done at 4 am while barefoot and the breath test was given almost one hour after driving and it could not be proven beyond all reasonable doubt what her blood alcohol was "at the time of driving" as required by law. Not guilty.

---
HINGHAM
FAILED BREATH TEST .15-TWICE THE LEGAL LIMIT
CASE THROWN OUT OF COURT

I was arrested for a Boating DUI and blew an over limit .15 and failed the field tests. If I had gone with anyone else I would have just pled it out but, boy, am I glad I chose Joe as my Attorney. I knew he was good as soon as I spoke to him. He's extremely well-spoken and very impressive in Court. Plus, he got the cop so messed up he ended up red-faced on the witness stand. I swear, you could have heard a pin drop during his cross-exam. Every one in the Court room was hanging on his every word.

See motion to suppress all evidence allowed.

'HE HAD THE DA ON THE ROPES FROM THE OPENING BELL.'

   SEE MOTION TO SUPPRESS ALL EVIDENCE ALLOWED   

---
WESTBORO
BLEW A .19 & FAILED BREATH TEST,
NOT GUILTY, 2ND OFFENSE

Client waved to a passing cop with his keys in his hand and told him he was having trouble starting his car. They stopped, noticed slurred speech, and he failed all the field tests. At the station, the breath test registered .19, almost two and one half times over limit! At trial, although 2 cops testified, I argued neither could attest that he had placed the keys in the ignition or when he had done so. Plus, I was able to prove the battery was dead and thus he had the additional defense of "factual impossibility." Not guilty 2nd offense.

---
NATICK-FRAMINGHAM
FAILED BREATH TEST; 2ND OFFENSE
NOT GUILTY AT TRIAL

I was arrested for my 2nd offense. The arresting detective said I had very thick and slurred speech and was unsteady on my feet. Plus, I admitted drinking two gin and tonics and one 16 oz. beer shortly before driving. The booking sergeant testified I had red, glassy and bloodshot eyes and in his opinion I was under the influence of alcohol. I even admitted I felt the effects of the alcohol! I took the breath test at the station and failed it over limit. Joe won the case and avoided a two year loss of license and thousands of dollars in fines and fees.

'JOE WAS RESPONSIVE TO ALL MY QUESTIONS AND HAD A GREAT COURT ROOM PRESENCE.'

---
E. HAMPSHIRE - BELCHERTOWN
FAILED BREATH TEST THROWN OUT
UNDER 21 OUI CHARGE DISMISSED

I failed the Breathalyzer at the station registering over limit. After studying the booking video, Joe ascertained that the breath test was not performed in accordance with the strict regulations required for it to be admissible. He drafted a Motion to suppress that evidence. After a four hour Hearing, the judge requested written briefs on the issue and ruled in our favor six weeks later. On the day of jury trial, the DA said he did not have enough evidence to go forward and dismissed my case.

See judge's order suppressing breath test and DA's motion dismissing OUI.

'HE WALKED INTO COURT AND MADE EVERYONE ELSE STUTTER.'

   SEE JUDGE'S ORDER SUPPRESSING BREATH TEST   

   SEE DA'S MOTION DISMISSING OUI   

---
NEWBURYPORT-IPSWICH & SALEM
JOE BEAT JAIL FOR ME IN 2 COURTS IN 1 DAY!
(DESPITE A .28 FAILED BREATH TEST)

I was still on Probation for OUI-1st in Salem when I was arrested for OUI 2nd Offense in Ipswich and registered an over limit .28. My Salem Probation Officer issued a Warrant for my arrest and asked that I be placed into custody when I got to Newburyport. The DA in Newburyport was asking for jail also. Joe managed to talk the judge out of having me taken into custody AND of sending me to jail for my 2nd offense. Instead, the Judge actually released me into Joe's custody. Then when we went to Salem later that day, my Probation officer was asking for a one year jail sentence on my first offense. Joe convinced the Salem Judge not to do so and I went home that night instead of to jail. Joe is the most intimidating and confident lawyer I have ever encountered and I was blessed to have him on my side.

"HE WALKED INTO BOTH COURTS LIKE HE PAID THE MORTGAGE!
YOU WANT HIM AS YOUR OUI LAWYER"

---
BOSTON / WEST ROXBURY
'HE KEPT ME OUT OF JAIL. I'D RECOMMEND HIM TO ANYBODY'

I was in an accident and registered an over limit breath test at the police station, twice the legal limit, in fact. I had two prior OUIs making this my 3rd offense and thus was facing a mandatory minimum six month jail sentence. Joe managed to negotiate a deal for me which included no jail time at all. I don't know how he did it but I'd recommend him to anybody.

---
CAMBRIDGE
FAILED BREATH TEST; 3 LANES VIOLATIONS:
NOT GUILTY

The Cambridge officer wrote he saw me cross the center line 3 times, that my speech was slurred, my eyes glassy and bloodshot and that I told him I had two shots and two drinks. Then when he arrested me, he wrote I told my friend "I might be too drunk to remember your phone number." Joe knew Massachusetts drunk driving defense, the Court and the players. He worked tirelessly to keep the over limit breath test out --which he did-- and to get me acquitted.

"CALL ME AND I'LL TELL YOU MYSELF:
JOE CARES ABOUT HIS CLIENTS!"

---
ROAD BLOCK
FAILED BREATH TESTS AND FIELD SOBRIETY TESTS:
NOT GUILTY

I was stopped at a road block and admitted to the Trooper I had been drinking 45 minutes ago. He took me out of the car and I foolishly agreed to do the field sobriety tests. I failed them all and was arrested. Then I –also foolishly—agreed to take the breathalyzer in the trailer nearby. I registered over limit on both of them too. Plus, at Trial, the Trooper testified my eyes couldn't focus on him and I was unsteady on my feet. No matter. Joe's obvious skills as a Mass. DUI Lawyer during cross-examination won the day.

'PUT YOURSELF IN HIS HANDS-- HE'S A GOD'

---
WRENTHAM
NOT GUILTY:
FAILED BREATH TEST,
3RD OFFENSE, WRONG SIDE OF ROAD,

The cop saw me cross the center line and drive on the wrong side of the road, followed me into my driveway and arrested me for 3rd offense. At the station, I foolishly took the breathalyzer and was over limit and lost my license. My Court appointed lawyer did nothing for 16 months until my family hired Joe. With only two weeks to prepare for Trial, he fought vigorously every step of the way. He had pretrial Motions prepared and questioned the accuracy of the breath test. The DA just wouldn't quit, but after a hard fought Trial, Joe won a not guilty.

"JOE REALLY KNOWS HIS JOB."

---
MALDEN - ROAD BLOCK
NOT GUILTY!
FAILED BREATH TEST AND 2 OF 3 FIELD TESTS

At the road block, I admitted to the Trooper I had been drinking and smoked pot. He arrested me after the field tests and then I registered over limit on the breath tests too. Joe was always professional and courteous and his communication with me was excellent. He kept me up to date with detailed written reports and explained all my options. As a result, I decided to fight. At my drunk driving Trial, he did an excellent job cross examining the Trooper –who was no slouch and trains all the other Troopers.

---
CONCORD
"GOT ME OUT OF BIG TIME TROUBLE
NOT JUST ONCE BUT TWICE"

My first arrest I blew an incredibly over limit .32- four times the legal limit! He arranged to have the case heard on the day before Christmas assuring me it was the best day of the year to get a good deal. He was absolutely right: I got just a slap on the wrist. Then when I got my 2nd offense during the probation period for my first one, he told me exactly what I needed to do to avoid jail time.

He was absolutely right both times. One incredible DUI Attorney.

---
SALEM
NOT GUILTY DESPITE ACCIDENT AND OVER LIMIT BLOOD TEST
My client was in a bad accident and taken to the hospital where a blood draw was performed showing he was over the legal limit. Plus, he admitted he was drinking a beer at the moment the accident happened. At my Motion to Suppress, this statement was thrown out. Then at Trial, the blood result was excluded and we won a Not Guilty on both the OUI -2nd offense and the Open Container charge.
---
BOSTON / WEST ROXBURY
FAILED BREATH TEST SUPPRESSED
My client had been in a bad accident, was arrested, took the breathalyzer and registered over limit. After reviewing the test documents, I saw they indicated he had only been observed for 11 minutes before the test, not the 15 that are required. After an extremely hard fought Motion to Suppress Evidence, the judge called for briefs. I submitted an extensive one, along with a transcript of the Hearing. Two months later, the Judge ruled in our favor: the breathalyzer evidence was excluded.
See judge's order suppressing breath test.
---
WALTHAM
FAILED BREATH TEST THROWN OUT OF COURT
My client was arrested after a chase by the police and elected to take the breathalyzer at the station house. He failed it over limit and his license was suspended immediately. After viewing the booking video, I could see that the test was not properly administered and recommended my client challenge it. After a full Hearing on my Motion to Suppress evidence, the Judge threw the breath test out of court.
---
WESTBORO
91 MPH AND .16 FAILED BREATH TEST: 4 OF 5 CHARGES DROPPED
Clocked by radar speeding and tailgating at 91 mph. my client blew an over limit .16 and an .18. With 5 infractions already on his license, if responsible on all 5 of the new charges, he would have triggered an additional 60 day suspension for which no work license is available and lost his job. I negotiated a plea deal where 4 charges were dropped outright. Result, the additional 60 day suspension was not triggered; he got a work license and kept his job.
---
DEDHAM
FAILED BREATH TEST PROVEN WRONG; LICENSE IMMEDIATELY RESTORED
I decided to attack my client's Registry imposed suspension for over limit breath test. I had the Police fax me 21 pages of documents which I scrutinized over the weekend, discovering the test machine's calibration was wrong. We went back to Court immediately and the DA didn't even try to oppose my Motion.
Result: The Judge signed a Court Order restoring his license that same day.
---
ROAD BLOCK - LOWELL
ROADBLOCK STOP ILLEGAL - .16 FAILED BREATH TEST CASE THROWN OUT
Result: No 2 year license loss or "ignition interlock device" required.
Facing his 2nd offense, client was stopped at a drunk driving road block and registered an over limit.16 Breathalyzer –twice the legal limit. At my Motion to Suppress, I argued that the roadblock did not comply with the very strict guidelines set up by the Supreme Judicial Court for the operation of roadblocks. The Judge agreed and threw the case out of Court.
---
E. HAMPSHIRE - WARE
.22 FAILED BREATH TEST, 7 CHARGES, ALMOST HITS 2 COPS, GETS WORK LICENSE
The 2 cops waving at my client with flashlights had to jump out of his way. Then he fled the scene and registered an over limit .22 on the breathalyzer. Instead of losing his license for 5 years, I negotiated a deal where 2 charges were dropped outright, he received CWOFs on all other criminal charges and he lost his license for only 45 days (during which time he had a work license!).
---
WESTBORO
.32 FAILED BREATH TEST & 2ND OFFENSE: 3 OF 4 CHARGES DROPPED & NO JAIL
Despite having an over limit breath test of .32 (4 times the legal limit!) less than two years after her previous arrest for OUI, I negotiated a deal where not even a suspended jail sentence was imposed and 3 of the 4 charges against her were dropped on the very first Court date.
---
FRAMINGHAM - NATICK
.15 FAILED BREATH TEST CASE THROWN OUT
FOG LINE NO REASON FOR STOP
The cop followed Mr. S. one mile and saw him cross the fog line only once. He stopped him and arrested him for OUI. Mr. S blew an over limit.15 at the station, almost twice the legal limit. I advised my client how to fight a DUI: attack the legality of the stop of the car. At my Motion to Dismiss, I gave the Judge cases from 4 other states deciding crossing the fog line is not enough reason to stop a car. The Judge agreed, citing the case I gave him (from Montana!) in his decision.
Result:   ALL evidence -- field sobriety tests, breath test -- thrown out and case dismissed
---
HAVERHILL
3rd OFFENSE REDUCED TO 2ND: NO 6 MONTH JAIL TERM
My client blew an over limit .15 breathalyzer after a bad accident. Charged with his third offense, he faced a mandatory jail sentence of at least six months and an 8 year loss of license. I stressed to the DA that his 2 priors were from out of state and the Commonwealth would have a difficult time proving my client was the same man convicted there. The DA immediately agreed with me and reduced the charge. Result: No jail time.
---
WESTBORO
FAILED BREATH TESTS AND 3 FIELD TESTS:
NOT GUILTY- SECOND OFFENSE
Cop testified my client smelled of alcohol, had slurred speech, failed the backwards counting, the 9 step walk and turn and the one leg stand field sobriety tests. At the station, my client was over limit and failed the breath tests as well. I stressed to the Court all the things my client had done right [no problems driving, producing license and registration, followed cop's instructions, etc.] and that the breath test was done over one hour after he was arrested and thus should be discounted.
The Judge agreed. Not Guilty.
---
CLINTON
FAILED BREATH TESTS - NOT GUILTY AT TRIAL
Melanie's Law dictates if you blow .08 or over you are guilty of OUI. Period. Client had blown .09-- twice, admitted to coming from a bar and having four drinks over the past hour. Plus, the cop didn't like the way he did the field sobriety tests. I advised him not to plead guilty and not to have a Jury Trial. We did so and he received a Not Guilty -- despite the two over limit breath tests.

---
"HIRE THIS GUY!
HE DOESN'T MAKE PROMISES HE CAN'T KEEP"
I was charged with my 2nd offense and failed both the field tests and registered over limit on the breath tests. I called Joe and he had a very comforting manner and was calm and courteous on the phone so I hired him immediately. Somehow, he got me a not guilty after Trial. Keep his card in your wallet!
---