Cell: 978 921 4100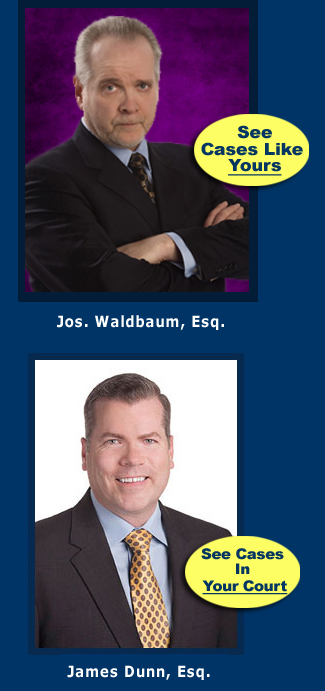 Waldbaum & Dunn
OUI Defense
OPEN CONTAINER WINS:
UXBRIDGE
NOT GUILTY OUI 1ST OFFENSE
& NEGLIGENT OPERATION
OPEN CONTAINER CHARGE THROWN OUT

My son was arrested for 5 charges. I never needed an atty. or faced such a devastating situation but knew from the first conversation Joe was the right guy. During the process I had many questions and whenever I contacted him he got right back to me even on the weekends. He got the open alcohol container charge thrown out and then got not guiltys on both criminal charges at trial. It was the best outcome I could have hoped for. He also got my son's right to drive restored right after trial despite a six month refusal suspension. Now he can drive again and help with my wife who is sick.

See judge's order restoring license.

'IF YOU WANT GREAT RESULTS, CALL HIM.
HE'S A REALLY NICE GUY TOO'

   SEE ORDER RESTORING LICENSE   

---
FRAMINGHAM-NATICK
NOT GUILTY: OUI
NOT GUILTY: CHILD ENDANGERMENT WHILE OUI
NOT GUILTY: OPEN CONTAINER IN VEHICLE
NOT GUILTY: LANES VIOLATION

I had never been arrested before and this was a terrifying situation for me. The DA's office wouldn't reduce the charges despite my clean record so Joe recommended we go to trial. During the year it took, he left no stone unturned in my defense. At trial, he faced an obviously tough and experienced DA, but, boy, did Joe pull through in the clutch:

A GRAND SLAM
ACQUITTED OF ALL 4 CHARGES​

---
NATICK - FRAMINGHAM
ALL 3 CHARGES THROWN OUT:
2ND OFFENSE, OPEN CONTAINER OF ALCOHOL, LANES VIOLATION.

The police officer followed me 1.5 miles at 45 mph only 2 car lengths behind then stopped me because I swerved over the fog line by a foot or so. I told him I was nervous because he was so close behind me. He said my eyes were red and glassy, my speech slurred and I failed all the field tests so he arrested me for my 2nd offense. Joe brought a Motion to suppress the stop of my car and submitted cases to the Court supporting his argument. I never thought you could get DUI cases dismissed but the Judge concluded there was no cause for the stop. Joe then followed through to get my 3 year refusal suspension reversed and the DA filed this document dropping all charges:

'AFTER THE MOTION TO SUPPRESS, THE COMMONWEALTH HAS INSUFFICIENT EVIDENCE TO PROCEED.'

   SEE DA'S DISMISSAL + ORDER RESTORING LICENSE   

---
LOWELL
NOT GUILTY 2ND OFFENSE

Client was seen swerving in his lane for two miles, had slurred speech and bloodshot, glassy eyes. He admitted to drinking and had an open container of beer in the console clearly visible to the officer. He was unsteady on his feet getting out of the car and had to place his hand on the car to keep his balance. Plus, there was a strong odor of alcohol about hs person. The booking video showed him swaying at points and with slurred speech as well. Not guilty at bench trial.

'HE'S THE BEST OUT THERE.
AND HE MAKES IT RELAXING AND NOT STRESSFUL.'

---
SALEM - PEABODY
NOT GUILTY ALL 3 CHARGES:
1. OUI 3RD OFFENSE
2. RECKLESS ENDANGERMENT OF CHILD
3. CHILD ENDANGERMENT WHILE OUI

While plowing a driveway, my truck crashed into the side of the house causing extensive damage. I said I had 3 beers but they found an open container of vodka on the dashboard and my 5 year old in the front seat so I was charged with Child Endangerment while I was OUI. It was my third offense and got extensive news coverage. (They dubbed me "Mr. Plowed" on the Internet!)

Although 2 cops and the Chief of the Fire Department testified I was disheveled and gave their opinion I was under the influence, Joe found an appellate case which had just come down the very week of trial. The Judge said he had read it that very morning, relied on it in issuing acquittals on all 3 charges and actually complimented Joe for finding it.

Then Joe followed through and convinced the Judge to overturn my 5 year license suspension for refusing the breathalyzer - which got us back in the news papers again!

"THIS IS THE ONLY LAWYER TO HIRE.
HE'S LIKE A PANTHER IN THE COURTROOM."

   SEE NEWSPAPER STORY   

---
WESTBORO
NOT GUILTY 2ND OFFENSE:
FAILED ALL FIELD TESTS, 21 CANS OF BEER IN TRUCK

It was my 2nd offense. I failed both the field sobriety tests and had 21 cans of beer in the truck, plus one open container of beer in the console! Joe did a painstaking cross examination of the cop, bringing it along slowly and stressing everything I had done right. We got a Not Guilty and the judge ordered my 3 year refusal suspension overturned the same day.

"AT TRIAL, HE IMPRESSED EVERYBODY.
PEOPLE IN THE AUDIENCE ASKED FOR HIS CARD"

---
NATICK - FRAMINGHAM
ARRESTED FOR DWI: NOT GUILTY!
JOE SAID WE COULD WIN AND HE WAS RIGHT

I had an open container of beer in the car, was weaving in my lane, crossed the double solid center line and failed two of the three field sobriety tests. After writing me three extremely detailed reports about the case, Joe recommended we fight the charges. He walked me through the Trial process every step of the way and totally kept me from getting nervous. I'm extremely happy with the way he handled everything.

"He wanted to win so badly,
he actually gave up an oral surgery appointment to do my Trial!"

---
LAWRENCE
RUNS RED LIGHT, DRIVES OVER LAWN, HITS GUARDRAIL: NOT GUILTY OUI
Before the accident, client was seen speeding 20 mph over the limit and weaving in and out of traffic. Cop followed him and saw him run a red light and shut off his headlights as he entered a residential section. The cop then found him after he had driven over a lawn and hit a guardrail. He testified he was unsteady on his feet, smelled of alcohol, had bloodshot and glassy eyes, slurred speech and many open containers of alcohol in the vehicle. Verdict: Not Guilty of OUI
---
E. BROOKFIELD
4 OF 6 CHARGES DROPPED ON 1ST COURT DATE & GETS WORK LICENSE
He was charged with OUI; Reckless Driving; Speeding; Open Container of alcohol in vehicle and 2 additional moving violations. Despite a criminal record, I arranged a deal where four of the charges were dropped outright on the first Court date, allowing him to get a work license three days later. His driving record was so bad that if he was found responsible of even one additional charge he would have had no chance for a work license.
---
SALEM
NOT GUILTY DESPITE ACCIDENT AND OVER LIMIT BLOOD TEST
My client was in a bad accident and taken to the hospital where a blood draw was performed showing he was over the legal limit. Plus, he admitted he was drinking a beer at the moment the accident happened. At my Motion to Suppress, this statement was thrown out. Then at Trial, the blood result was excluded and we won a Not Guilty on both the OUI -2nd offense and the Open Container charge.
---
GLOUCESTER
ALCOHOL AND DRUG CHARGES DISMISSED
My 18 year old client was charged with possession of an open container of alcohol and pot on the passenger side of her car under her boyfriend's seat. I went sidebar with the Judge at arraignment and detailed her bad choice in boyfriends. The Judge agreed with me saying he'd recently sent her boyfriend to jail. He dismissed both criminal charges, saving her a 15 month license loss and a criminal record.
---
.31 BREATH TEST [4 TIMES LIMIT!] GETS JUST 'SLAP ON THE WRIST'
Charged with OUI, Open Container [min. $500 fine] and Negligent Operation [a criminal charge], I stood to lose my security clearance and job of 17 years if found guilty. Joe got me the absolute bare minimum license loss plus no fines on the other charges- saving me $600.
Despite being 4 times legal limit I got a work license just 3 days later!
Email: puuaa@hotmail.com
---