Cell: 978 921 4100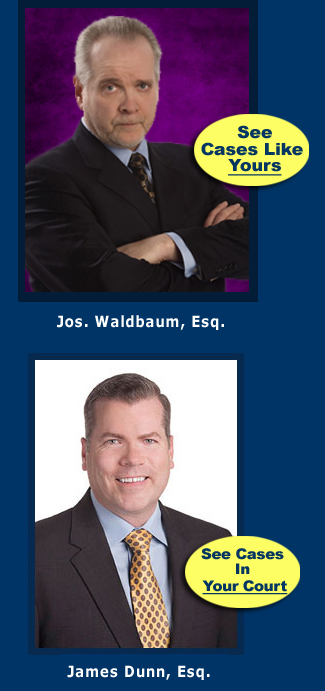 Waldbaum & Dunn
OUI Defense
MOTORCYCLE CASE WINS:
CAMBRIDGE
3RD OFFENSE
CASE THROWN OUT AND LICENSE RESTORED DUE TO ILLEGAL ARREST

Joe paid attention to every minor detail and followed every possible lead. He brought a motion to suppress the stop of my motorcycle proving the cop had followed me illegally into Somerville from Cambridge. He then had another motion ready immediately to restore my license. The judge agreed with both, my third offense was thrown out of court and I got my license back the very next day. I can't thank him enough.

INSTEAD OF 6 MONTHS JAIL AND 13 YEARS WITH NO LICENSE,
I'M DRIVING AGAIN BECAUSE I CHOSE THE RIGHT DUI LAWYER

---
LOWELL
ACCIDENT
NOT GUILTY 1ST OFFENSE
'AT TRIAL, HE WAS VERY ARTICULATE & CAPTIVATED THE JURY'

Two detectives came upon Greg having fallen off his motorcycle. A third officer arrived. They all concluded he was under the influence and arrested him for OUI. They reported an odor of alcohol, glassy, bloodshot eyes, slurred speech and unsteadiness on his feet.

"Joe was attentive and answered all my questions. He paid attention to the smallest details. He fought hard to get a copy of my booking video which basically got me acquitted. He even convinced one of the toughest judges in the state to restore my license immediately. I was told she never does that."

See judge's order restoring license.

HE GOT THE TOUGHEST JUDGE IN THE STATE TO RESTORE MY LICENSE

   SEE JUDGE RESTORES LICENSE   

---
NEWBURYPORT -IPSWICH
JURY ACQUITS SECOND OFFENDER IN 15 MINUTES
My client was arrested for his 2nd offense while riding his motorcycle. I argued to the jury that driving a two wheeled vehicle requires a finer sense of balance than driving a four wheeled one. Also, dismounting requires raising one leg up very high and he was able to do so with no difficulties or unsteadiness. The Sergeant testified he had him walk an imaginary line heel to toe so I asked him "How wide was that imaginary line?" As he stammered to answer, the jury got the point. They came back with a not guilty in 15 minutes.
---