Cell: 978 921 4100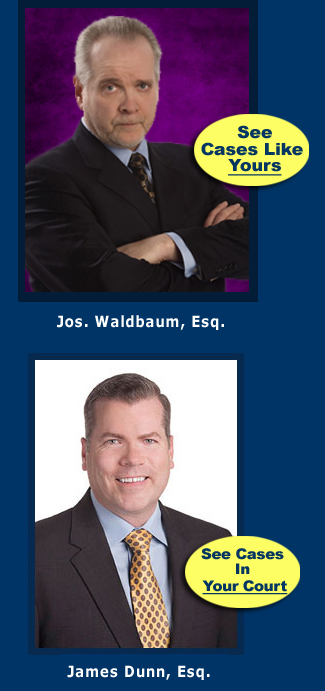 Waldbaum & Dunn
OUI Defense
CHILD ENDANGERMENT WINS:
FRAMINGHAM-NATICK
NOT GUILTY: OUI
NOT GUILTY: CHILD ENDANGERMENT WHILE OUI
NOT GUILTY: OPEN CONTAINER IN VEHICLE
NOT GUILTY: LANES VIOLATION

I had never been arrested before and this was a terrifying situation for me. The DA's office wouldn't reduce the charges despite my clean record so Joe recommended we go to trial. During the year it took, he left no stone unturned in my defense. At trial, he faced an obviously tough and experienced DA, but, boy, did Joe pull through in the clutch:

A GRAND SLAM
ACQUITTED OF ALL 4 CHARGES​

---
SALEM - PEABODY
NOT GUILTY ALL 3 CHARGES:
1. OUI 3RD OFFENSE
2. RECKLESS ENDANGERMENT OF CHILD
3. CHILD ENDANGERMENT WHILE OUI

While plowing a driveway, my truck crashed into the side of the house causing extensive damage. I said I had 3 beers but they found an open container of vodka on the dashboard and my 5 year old in the front seat so I was charged with Child Endangerment while I was OUI. It was my third offense and got extensive news coverage. (They dubbed me "Mr. Plowed" on the Internet!)

Although 2 cops and the Chief of the Fire Department testified I was disheveled and gave their opinion I was under the influence, Joe found an appellate case which had just come down the very week of trial. The Judge said he had read it that very morning, relied on it in issuing acquittals on all 3 charges and actually complimented Joe for finding it.

Then Joe followed through and convinced the Judge to overturn my 5 year license suspension for refusing the breathalyzer - which got us back in the news papers again!

"THIS IS THE ONLY LAWYER TO HIRE.
HE'S LIKE A PANTHER IN THE COURTROOM."

   SEE NEWSPAPER STORY   

---
CLINTON
MANDATORY JAIL AVOIDED:
CALL ROBERT @ 978-621-8937
I had no idea how to fight a DUI after I was arrested. I was charged with Child Endangerment while OUI which carries a mandatory jail sentence of 90 days and a one year loss of license. Joe guided me through the whole process at the Registry and in Court. He had obviously been through this all many times before and truly knows his stuff. I couldn't recommend him more highly and was lucky to have him by my side. If I'd hired another Attorney, jail might very will have been the result. OK to call me to confirm all this.
---