Cell: 978 921 4100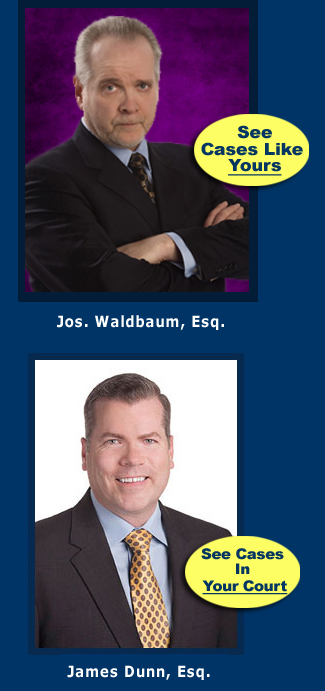 WESTBORO
3RD OFFENSE, .13 BREATH TEST THROWN OUT,
DROVE WRONG WAY
JURY: NOT GUILTY IN 5 MINUTES​




My case looked like a sure loser but Joe studied the booking video and said we should try to get the breath test excluded. At his motion to suppress, he showed a half dozen ways it was done incorrectly and the judge threw it out. That gave us a fighting chance. At trial, a police lieutenant testified to my car going the wrong way completely over the center line and the arresting officer swore I failed all the field sobriety tests. Joe was ready to cross-examine them all. He is one of the most intelligent people I have ever met. I owe him my license, my job, and my life.

'AFTER WATCHING JOE DEFEND ME,
MY DAUGHTER DECIDED TO GO TO LAW SCHOOL'

---
WOBURN
NOT GUILTY; OUI-DRUGS 2ND OFFENSE

Client was seen by off duty cop to cross center line 6-7 times and once go entirely into opposite lane then run through a 4 way stop sign. He admitted to taking Vicodin and according to the arresting officer failed the one leg stand and the nine step walk and turn field tests. Despite the testimony of three officers at trial, he was found not guilty.

---
CAMBRIDGE
ADMITS TO 3-4 BEERS & GLASS OF WINE + BAD ACCIDENT
2 PASSENGERS IN OTHER CAR TESTIFY.
NOT GUILTY

'The passengers in the other car said I crossed the center line and came right at them. I admitted it was all my fault and they testified I was drunk and acting bizarrely when I approached their car to apologize. I also told the cops I had taken a couple of pills in addition to the alcohol. The days I spent in Court with Joe I was impressed with his intelligence. He is an outstanding professional.

'EVERY DOLLAR I PAID HIM WAS WELL SPENT!
I'M GLAD I WAS SMART ENOUGH TO HIRE HIM'

---
CAMBRIDGE
FAILED BREATH TEST; 3 LANES VIOLATIONS:
NOT GUILTY

The Cambridge officer wrote he saw me cross the center line 3 times, that my speech was slurred, my eyes glassy and bloodshot and that I told him I had two shots and two drinks. Then when he arrested me, he wrote I told my friend "I might be too drunk to remember your phone number." Joe knew Massachusetts drunk driving defense, the Court and the players. He worked tirelessly to keep the over limit breath test out --which he did-- and to get me acquitted.

"CALL ME AND I'LL TELL YOU MYSELF:
JOE CARES ABOUT HIS CLIENTS!"

---
QUINCY
NOT GUILTY: 3RD OFFENSE
"JOE IS UNBELIEVABLE IN FRONT OF A JURY:
PRECISE AND TO THE POINT"

During my 3 day Trial, a constable testified he followed me for 10 minutes, saw me cross the center line and drive all over the road and completely in the opposite lane for 20 seconds. 2 cops testified I failed 3 of 4 field tests, was unsteady on my feet and had a "1000 yard stare." Joe stressed that I stopped at every red light, proceeded when they turned green, was wearing heavy work boots and the cops' flashing lights interfered with the testing. The jury agreed. Not Guilty. No jail. No 8 year license loss.

"EVERY CHANCE JOE HAD TO REACT TO SOMETHING, HE POUNCED"

---
NATICK - FRAMINGHAM
ARRESTED FOR DWI: NOT GUILTY!
JOE SAID WE COULD WIN AND HE WAS RIGHT

I had an open container of beer in the car, was weaving in my lane, crossed the double solid center line and failed two of the three field sobriety tests. After writing me three extremely detailed reports about the case, Joe recommended we fight the charges. He walked me through the Trial process every step of the way and totally kept me from getting nervous. I'm extremely happy with the way he handled everything.

"He wanted to win so badly,
he actually gave up an oral surgery appointment to do my Trial!"

---
WRENTHAM
NOT GUILTY:
FAILED BREATH TEST,
3RD OFFENSE, WRONG SIDE OF ROAD,

The cop saw me cross the center line and drive on the wrong side of the road, followed me into my driveway and arrested me for 3rd offense. At the station, I foolishly took the breathalyzer and was over limit and lost my license. My Court appointed lawyer did nothing for 16 months until my family hired Joe. With only two weeks to prepare for Trial, he fought vigorously every step of the way. He had pretrial Motions prepared and questioned the accuracy of the breath test. The DA just wouldn't quit, but after a hard fought Trial, Joe won a not guilty.

"JOE REALLY KNOWS HIS JOB."

---
LEOMINSTER - FITCHBURG
3RD OFFENSE REDUCED TO 2ND- NO JAIL TIME
My client was facing his third offense and a mandatory jail sentence of six months minimum after crossing the center line and committing multiple lanes violations. The officer noted in his report that client could barely stand when he got out of his pickup truck. On the date of trial, I convinced the district attorney to reduce the charge from third offense - a felony -- down to second offense -- only a misdemeanor. Thus, I saved my client from a felony conviction and the concomitant mandatory minimum six months in jail.
---
HAVERHILL
COLLEGE GRAD WHO COULDN'T RECITE ALPHABET ACQUITTED
A summa cum laude UMass grad was speeding 87 mph in a 65 mph zone, couldn't say the alphabet and failed all four field sobriety tests. Then the cop testified he had crossed the center line by "a foot and a half" for "10 to 12 seconds" at least "two to three times." On cross exam, I asked him to underline the sentences in his Report where he recorded any of those assertions. Not even one was in his Report and he lost all credibility with the Judge.
OUI: Not Guilty
Lanes Violations:  Not Responsible
---
NEWTON
THREE YEAR RMV LICENSE REFUSAL SUSPENSION OVERTURNED IN COURT
In a bad accident, my client lost control of the car, struck a traffic signal, crossed the center line and ended up in the opposite lane of travel with heavy front end damage. The RMV then suspended him for three years for refusing the breath test. I then appealed the license suspension to a Judge in District Court and convinced the Judge to reverse his suspension so he got his license back while the case was still going on.
The Judge ruled the RMV "acted in an arbitrary and capricious manner."
---